Phenomenal Fungi
Grown and sourced with insight, respect, and care, the quality of our fungi surpasses the standard so that you get the merits of mushrooms in every bottle.
Collapsible content
Canadian Grown

Rainbo offers the highest quality, trusted Canadian functional mushroom products. Supported by a long history of traditional use and modern scientific evidence, our functional mushrooms are adaptogenic powerhouses benefiting the body and mind. 

Rainbo mushrooms are proudly cultivated in Canada—where our team is also based.
Fruiting Body Only

No grain. No fillers. No mycelium in our products.

To ensure quality and potency, we harvest our mushrooms at the fruiting body stage (aside from old growth Agarikon which would take decades to grow) when the mushrooms are mature and most concentrated with bioactive compounds. 

We believe that creating our extracts from fruiting body mushrooms is the most efficacious, potent, and true to the traditional methods of mushroom extraction practiced by generations of healers and rooted in traditional wisdom.
Purity & Potency Tested

Our mushrooms are grown and manufactured in a quality-controlled, temperature-stable GMP, Health Canada, and FDA compliant facility. Every batch is tested twice for purity.
Bound by Nature

We aim to leave as little trace as possible throughout our production processes and support organizations whose work centers around the preservation of healthy soils, trees, and mycoremediation efforts. Our business operates as climate neutral.
Thoughtful Supplementary Ingredients

Our ingredients are simple and of the highest quality. In addition to our mushrooms, we thoughtfully source every ingredient that goes into Rainbo products: 

Water - we use fresh spring water in our formulations 
Alcohol - organic, pharmaceutical grade and meets USP standards
Glycerin - organic, vegan, pharmaceutical-grade vegetable glycerin sustainably produced from flax seeds. Meets USP standards
Dark Grade Canadian Maple Syrup sourced from Quebec Forests
1% Donated for Every Product

Investing back into our planet means sustaining mycelial networks everywhere. We donate 1% of each product to our impact partners through Beam.
Our mushrooms and the spring water in our dual extracts proudly comes from our home in Canada.
We cultivate our mushrooms and wild craft Chaga and Turkey Tail from forests in Ontario and Quebec.
Terms & Definitions
Adaptive Immune Response

The second line of immune defence, this physiological response, launches a highly specific attack against a particular pathogen. It does not happen immediately however, it is long-lasting and sustained long-term due to immunological memory. Also called the acquired immune response.
Adaptogens

A natural substance considered to help the body adapt to stress and to exert a normalizing effect upon bodily processes. Adaptogens are non-specific, meaning they can target multiple functions in the body. They also act independently of the individual imbalance ie. they adapt to what the body needs in a particular moment.
Beta-glucan

Naturally occurring structural components of the cell walls of fungi, certain bacteria and cereal grains. They are composed of polysaccharide chains that differ in where the units of the chains are linked. For example, the beta-glucan links called (1>3) and (1>6) found in fungal cell walls show immunological activity when consumed, while the (1>4) linked beta-glucans found in cereal grains are not immunologically active.
Chaga

Inonotus obliquus, commonly called Chaga, is a fungus in the family Hymenochaetaceae. It grows on birch and other trees. The sterile conk is irregularly formed and resembles burnt charcoal. Chaga has been a part of traditional folk medicine in Russia, Poland, China, and other Baltic countries for centuries. It is well-known for its immune supportive properties, as powerful antioxidant that promotes cellular health and DNA, blood sugar, and supports chronic conditions.
Cordyceps

Cordyceps genus, the name given to the fungi that grow on insects, has existed since 2000 B.C. Cordyceps militaris is cultivated and widely used in Traditional Chinese Medicine and extensively as a tonic food in East Asia. Cordyceps is known for its adaptogen properties which support stress and energy.
Dual-extract

An "extract" may be found in liquid or powder form and is typically made by soaking plant or fungal raw material in a liquid such as alcohol or water to extract and concentrate compounds from the starting material. In a "dual extract," the material is first extracted with either hot water or alcohol, and then the remaining plant/fungi material is extracted again with the other method. Next, the liquid from the first extraction is combined with the liquid from the second extraction to form the final dual extract.
Foray

A field trip to collect wild mushrooms. Hunting for edibles, collecting for scientific study and education, or looking at the beauty and diversity of fungi.
Fruiting Body

The reproductive structure of a fungus (produces spores). Typically seen and identified as a mushroom.
Functional Mushroom

Specific groups of fungi containing health-promoting bioactive compounds that have been shown to enhance and modulate our physiological processes. Varieties of mushrooms that have health benefits beyond nutritional value.
Immunomodulator

Any substance that can modulate and balance the immune system. The influence of immunomodulators can strengthen weak immune systems and control overactive immune systems.
Lion's Mane

Hericium erinaceus is a medicinal and culinary mushroom that is widely used in East Asia. Bioactive compounds derived from the fruiting body or its mycelium have many properties, including antioxidant, antidiabetic, anti-inflammatory, and hypolipidemic properties. It is also known for supporting neurological disorders as it contains neurotrophic compounds that can cross the blood-brain barrier.
Medicinal Mushroom

specific groups of fungi containing bioactive compounds that have been shown to have health-enhancing effects on the body.
Mycelium

A mass of hyphae that constitutes the vegetative body of the fungus. Thought of as the "root" system of fungi. Does not contain mature "mushrooms".
Mycology

The scientific study of fungi and/or the practice of cultivating them.
Mycorrhiza

A beneficial association between a fungus and a living plant root.
Polysaccharide

The most abundant carbohydrate found in plant and fungi food sources. They usually perform one of two functions in the organism: energy storage (starch) and structural support (dietary fibre). Beta-glucans are examples of polysaccharides found in the cell walls of fungi.
Reishi

Lingzhi, Ganoderma lucidum, also known as Reishi is a polypore fungus native to East Asia belonging to the genus Ganoderma. Its reddish-brown, glossy varnished kidney-shaped cap with bands and peripherally inserted stem gives it a distinct fan-like appearance. Reishi has a long history of use for promoting health and longevity. In Chinese, the name lingzhi represents a combination of spiritual potency and the essence of immortality and is regarded as the "herb of spiritual potency," symbolizing success, well-being, divine power, and longevity.
Symbiotic

A mutually beneficial partnership formed between two living organisms.
Synergy

When the interaction of biological substances produces a greater effect than the sum of the individual effects acting alone.
Tincture

A tincture is a concentrated liquid extract that is made by soaking the starting plant/fungal material in alcohol. Tinctures use alcohol because they are excellent solvents for extracting both acidic and basic compounds or water-soluble and fat-soluble compounds from the starting material.
Turkey Tail

Trametes versicolor – also known as Coriolus versicolor and Polyporus versicolor – is a common polypore mushroom found worldwide and one of the most common fungi in Canada and throughout the U.S. It is found virtually anywhere there are dead hardwood logs. They typically grow in rows or overlapping shelves. In Chinese medicine, it is called yun zhi, and the Japanese name is kawaratake. This fungi contains a protein-bound molecule known as PSK, or polysaccharide K. Many polysaccharides (including PSK) have been shown to boost the immune system to fight infection and many different types of disease.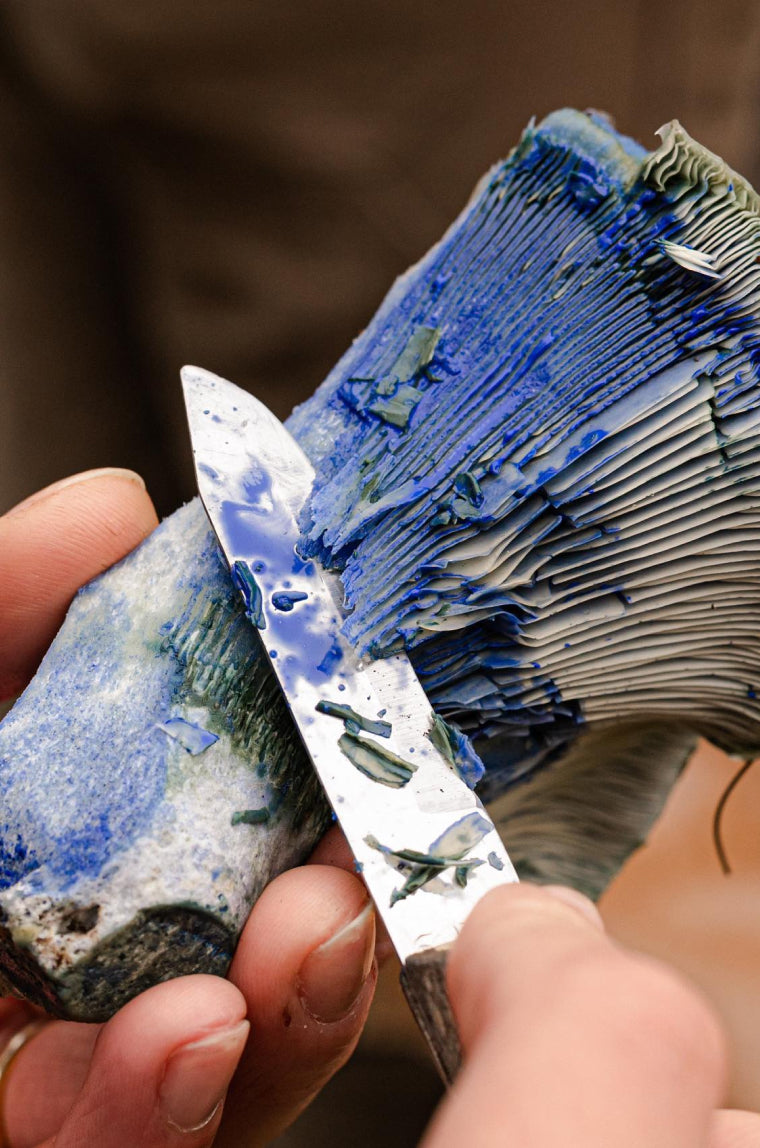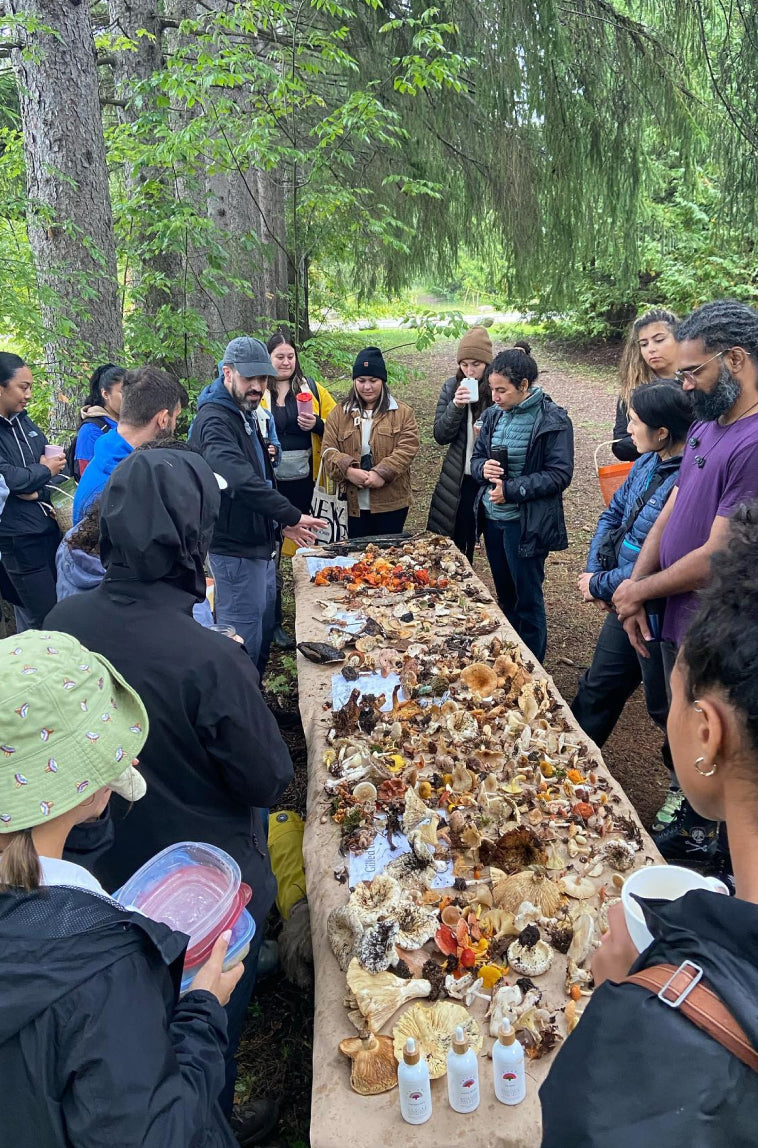 Join us on one of our foraging adventures and learn the fundamentals of fungi.
Keep an eye on our Instagram for the schedule and we'll see you in the forest!